ACBL's Daily River Conditions
Updated Friday, December 2nd, 2022
Today's Key Issues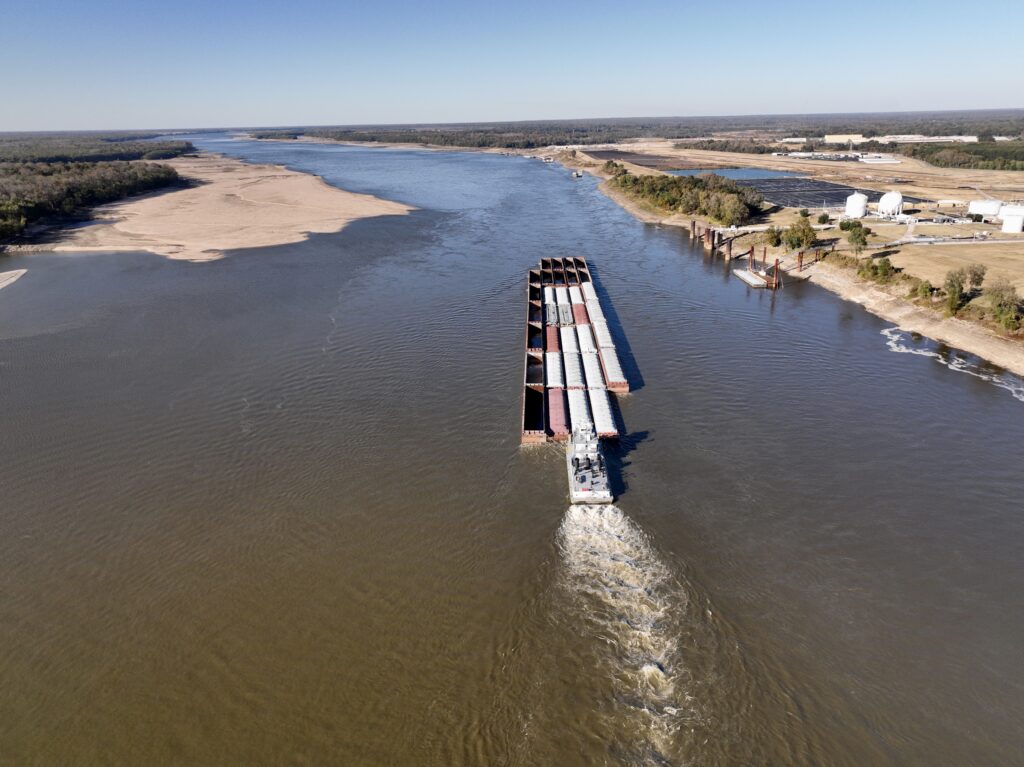 Historic Low Water Conditions – River Levels remain impactful through Dec on the Mississippi River with sustained severe impacts to navigation not seen since 1988. Industry continues incurring significant reductions to boat capacity, which has in turn drastically decreased ton-mile productivity for the inland rivers since early Oct.

ACBL has taken the lead within the Inland Marine Industry, working with our partners at the USCG and USACE to mobilize resources in troublesome areas and manage marine traffic.

ACBL and Industry have seen improved transits and run-time on the Lower Miss during November, but draft and tow restrictions remain an impediment.
December is forecast to see another fall in river levels, and expect restrictions, particularly St. Louis through Cairo, to degrade Industry capabilities by mid Dec.

Industry reduced Lower Miss drafts to 9'0″ on October 17th both NBD and SBD. This change reflects a 24-30% reduction to tons per barge versus normal conditions.

Note that as of 12/02, loading drafts have increased to 10'6″ Cairo south; however, drafts are still at 9′ NBD.

USCG and Industry have agreed on SBD tow size restrictions to 6-widths currently, expected to be at 5-widths when the river falls mid-December. Note that 6-wide reflects a 15-25% reduction in tow size.

ACBL Liquid drafts have been reduced to 8'6″ as of October 17th, reflecting approx. 17% reduction to tons per barge versus normal conditions.

ACBL has proactively reduced loading drafts to 8'6″ for barges transiting to/from/through the St. Louis area ahead of a sharp decline forecast for Dec.
Expect these issues to continue into 2023 based on forecasted precip.
Upper Miss Closeout – ACBL made our final departure from Clinton Monday, 11/28 and will work to clear off remaining barges below this area over the next week. Please review our closeout notice and get in touch with your ACBL sales representative if you have any questions. Click Here for the full closeout notice.
Upper Miss Draft Restriction Hardened – ACBL implemented an 8'6″ draft restriction for loadings in the Gulf to St. Louis, as well as origins above St. Louis due south. We are expediting barges loaded to 9′ to ensure we deliver to or above St. Louis before getting to -5 on the St. Louis gauge.
2023 Illinois River 120-Day Closure – ACBL has released our guidance for shipments to/from the Illinois River and Chicago which will be impacted by the lock closures Jun – Sep 2023. Click Here for our full guidance. Please contact your sales representative if you have further questions.
Ohio River Low Water Draft Reduction – Drafts have been reduced to 9′ full-river for the Ohio, Tennessee, and Cumberland Rivers. However, we have increased drafts to 10′ from Cincinnati (OR 442) to Cairo SBD.
Montgomery Lock Main Chamber Closure (OR 32) – Main chamber closure began October 17th and will last through December 16th. The auxiliary chamber will remain in use but can only transit one barge at a time. Currently have 17 tows waiting, and an avg. of 8+ days to transit the lock including delays and processing time.
Lower Miss Tow Size Improvements – ACBL is closely monitoring river conditions and has increased tow size to reflect the improving conditions (17% reduction v. 34% in certain horsepower classifications).
Rob Roy Bridge Closure (AK 67.4) – Daily closure expected from 06:00 to 22:00 starting December 5th thru the 8th to facilitate repairs. An additional closure may be required from December 12th thru the 15th if work in both towers is not completed.
Norrell Lock (AK 10) – Intermittent closure for repairs and a 70′ width restriction started June 1st, 2022 with brief reprieve in August. The 70′ width restriction is expected to lift December 7th with daily closures ongoing from 07:00 to 19:00 until January 20th, 2023.
Bayou Sorrel Intermittent Closures (PA 37) – Daily closures are expected to resume November 28th with daytime restrictions from 07:00 to 16:00. The daily closures are projected to last till March 2023. Currently have 2 tows waiting, and an avg. of 7+ hours to transit the lock.
Harvey Lock Closure (WC 0.0) – As of October 20th, Harvey Lock is CLOSED to marine traffic due to risk from reverse head conditions resulting from low water conditions on the Lower MS River. Algiers Lock can be used as an alternate route.
Calcasieu Lock Closure (WC 238) – Daytime Closures are expected from December 12th thru the 16th. USACE will pause the work to clear the queue if an inordinate queue develops. After the work in December is completed, USACE anticipates work to resume at the end of January requiring an additional four to five days of closures.
Colorado Lock Closure (WC 440) – Resumption of work at the lock to begin December 5th thru January 27th, 2023 from 07:00 to 19:00.
Industry Manpower Issues – The Inland Maritime Industry continues seeing major shortages of manpower. This is directly impacting the ability to crew towboats. As a result, expect 1–2 day delays in boat timings throughout the system, increasing overall barge transits in kind. ACBL has taken measures to increase our workforce throughout the system. The safety of our Mariners is our highest operating priority. Accordingly, ACBL has implemented measures and training programs to keep all of our team members safe.
River Closure & Restricted Movements
---
Weather Information
---
Additional Information
Next Page